Two Top Fish Finders Join Forces
Crosslake, MN. (March 6, 2017) – Living upon the shores of Lake of the Woods, Ontario—one of the finest fishing lakes  on Earth— few anglers understand the fish-finding game like Jeff "Gussy" Gustafson. Now in his sixth season on the national FLW Tour, Gustafson recently reconnected with Aqua-Vu, the industry leader in underwater camera systems.
"I bought one of the early Aqua-Vu cameras in 2000," recalls Gustafson. "Used it nearly non-stop to help form a mental picture of my favorite spots on Lake of the Woods and other local waters."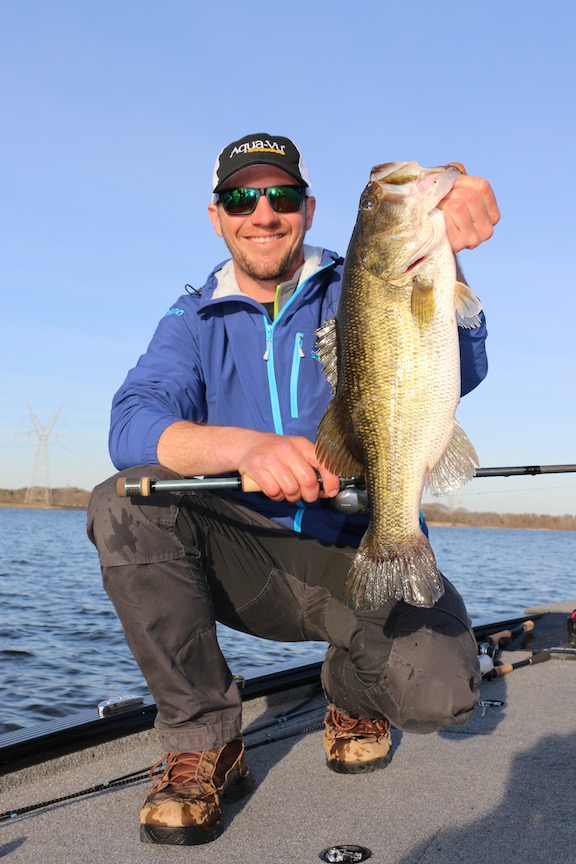 Seventeen years later, just in time for the FLW Tour event on Lake Travis, Texas, Gussy deployed the new Aqua-Vu HD700i, turning a challenging tournament into a solid 13th place finish, which positioned him in the top 5 in the Angler of the Year standings.
"When the bite turned tough in prefishing, I shifted my focus to deep water," said Gustafson. "The Aqua-Vu HD unit verified whether or not the fish I was marking on electronics were bass. That proved a big time saver, because a lot of the fish were the wrong species, but looked like bass on sonar. The camera also showed me that (no comma, thus "which" was replaced with "that") docks and brush piles held bass and which ones didn't."
Gustafson also expressed surprise in the performance of the high-definition camera optics. "I'm super impressed by how far this technology has come. The screen is as bright, clear and colorful as my sonar. You can see fish, vegetation and bottom structure even in bright daylight. It's a tool that will really help me prepare for tournaments. And I can't wait to use it back home while ice fishing walleyes, pike and crappies or chasing smallies on Rainy or Lake of the Woods."
A rising star in professional bass fishing, Gussy remains one of the only Canadian anglers to fish the FLW Tour. The truth, however, is that the Keewatin, Ontario based angler and fishing and hunting guide has been winning big bass events for years. Among Gustafson's achievements are 1st place finishes at the prestigious Kenora Bass Invitational (KBI) in 2000 and 2008 and International Falls Bass Championship in 2005, 2010 and 2011. Gussy also won the Fort Frances Canadian Bass Championship in 2013.
In his so-called off-season, Gustafson guides ice anglers to big Ontario walleyes, crappie, lake trout and pike. He's also a renowned hunting guide, putting clients on Northwest Ontario's giant whitetails, plus timber wolves from January to March.
"On the ice, an Aqua-Vu has always been invaluable for finding and verifying fish and watching how they react to our lures. The camera helps us catch a lot more big walleyes, pike and crappies."
Ben Gibbs, president of Aqua-Vu parent company Outdoors Insight, Inc., says Gustafson's positive, winning attitude and sense of discovery make him the perfect promoter and pro-staffer. "Gussy's reputation as one of North America's top bass anglers is exceeded only by his character. He's both a great fisherman and a terrific person. We look forward to Jeff's keen ideas and perspectives as we further expand and engineer underwater viewing products for bass, ice and all types of fresh- and saltwater fishing."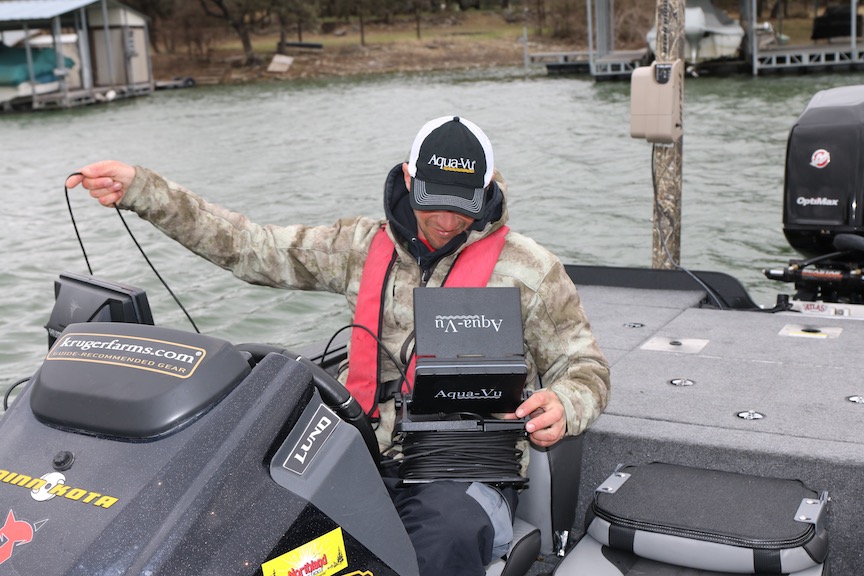 "As I travel the United States and Canada fishing bass, it's amazing how many lakes and reservoirs get clearer and clearer each season—whether due to mussels or other environmental factors," observes Gustafson. "For anglers looking for a fish-finding edge, an Aqua-Vu has become an amazingly valuable tool."
About Aqua-Vu
The Original Underwater Viewing System, Aqua-Vu is manufactured by Outdoors Insight, Inc., and has led the underwater camera category in design, innovation and quality since 1997. They were also the first with on-screen displays of water temp, depth and camera direction, LCD monitor, IR and LED light systems, DVRs and now Digital Zoom. The Central Minnesota based company builds other popular outdoors products as well, such as the iBall Trailer Hitch Camera (iballhitchcam.com) and Odor Check Moisture and Odor Control System (odorcheck.com). For more information on Aqua-Vu, visit www.aquavu.com.