Underwater camera leader taps pro Bruce Samson, expands educational outreach of angling electronics
Crosslake, MN. (January 12, 2016) – Apart from most angling electronics today, learning to use an Aqua-Vu underwater camera is simple. Deploy the optics and watch the screen. The fish you see through the lens are the same fish you strive to catch—no guesswork necessary. That said, the best anglers have learned to employ a full armada of electronics—sonar, GPS and underwater viewing—to gain the most complete aquatic perspective.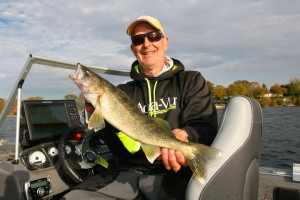 Among a growing delegation of angling tech-heads, Dr. Bruce Samson likely leads the modern electronics charge. A longtime user of Aqua-Vu underwater viewing systems, Samson recently reconnected with the Minnesota based angling optics company, adding a critical component to his popular educational programs.
Doc Samson— a legendary tournament angler who conducts a series of comprehensive electronics seminars at retail locations as well as special on-the-water events—says an Aqua-Vu underwater camera is an indispensable element in his fish finding arsenal.
"Even with the amazing images displayed by modern sonar, every angler needs an Aqua-Vu to see what's really down there; to confirm or refute what you think you're seeing on sonar," says Samson. "For species identification alone, an Aqua-Vu is a must-have tool.
"Most folks think cameras only work in clear water," he adds. "But the truth is, even in heavily stained water in summer, an Aqua-Vu still clearly shows me the fish species I'm seeing on sonar. And when fish are buried in vegetation or wood, it's the only tool that clearly reveals what's living there."
Adding even more convenience, says Samson, is the modern ability to connect an Aqua-Vu camera directly to a video-enabled sonar unit. "Both the Aqua-Vu Micro and the Multi-Vu Camera System attach directly to my boat's main sonar, so I can view underwater video and sonar images side-by-side on the same bright, colorful LCD. It's an awesome one-two fish-finding punch."
Aqua-Vu president Ben Gibbs extols Samson's strong presence in social and other media and notes a new cooperative concept called What Is It? "Doc has been a longtime supporter of Aqua-Vu, and we're excited to partner with him on an official basis. His 'What is it' concept presents powerful, visual underwater images that help folks recognize why an Aqua-Vu is such an important fishing tool."
Via Facebook, consumers are presented with a sonar image and asked to identify what's on the screen (What Is It?). A week later, an Aqua-Vu video clip reveals the answer. The first to correctly identify the species or scenario wins a new Aqua-Vu underwater viewing system. To date, the contest has garnered thousands of entries from curious consumers, with plans to continue well into 2016.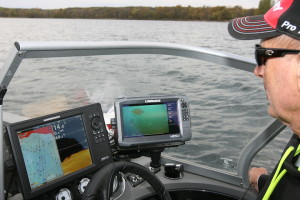 "We recognize the growing demand for fishing electronics," says Gibbs. "And the need to continually teach folks simple ways to use our underwater viewing technology to put more fish in their boats.
"Data from AnglerSurvey.com has revealed huge growth in sales of underwater cameras during the past two years," adds Gibbs. "As Doc says, anyone who fishes needs an Aqua-Vu to discover what's really below the surface. Through great online, on-water and retail learning, anglers can get the most from our underwater camera technology."