Nearly every boat, from contemporary fishing kayaks sneaking into hidden backwaters, to 40-foot wave-crushers plying offshore waters for billfish, is equipped with a fish finder. Since the first consumer-level fish finder appeared in 1957, anglers have relied on their own sonar interpretation skills, typically built through limited personal experiences, to find and catch more fish. Over the past 60 years, the high-tech tools that we use to find and catch fish have evolved, yet many anglers still struggle to identify structure and fish using traditional low-frequency sonar as well as high-frequency imaging techniques. That's about to change.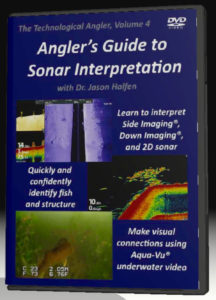 The Angler's Guide to Sonar Interpretation, the latest instructional video from The Technological Angler, provides a series of comprehensive lessons that combine traditional and high-frequency sonar images with Aqua-Vu underwater video, to teach the viewer to quickly and confidently interpret their fish finder's output so they can find, and catch, more fish.
Angler's Guide to Sonar Interpretation teaches anglers to identify hard and soft bottom areas, weeds, rocks, timber, man-made objects, thermoclines, algae blooms, and of course, fish. While the instructional images are all collected by, and optimized for, Humminbird systems, the sonar interpretation skills apply to any fish finder, regardless of the manufacturer. As an added benefit, the presentation closes with a detailed description of the hardware and software settings used to collect the clearest, easiest to interpret sonar images on the Humminbird HELIX system.
Dr. Jason Halfen, host and producer of Angler's Guide to Sonar Interpretation, remarks: "In our years of conducting instructional sonar workshops and on-the-water training events, the most common question we get from anglers is a simple one. They point at an object on their fish finder, and ask: 'OK, what is that?' Angler's Guide to Sonar Interpretation distills our years of field experience using modern fish finders into one, easy to digest instructional product that teaches the viewer to identify both structure and fish, so they can have more productive and enjoyable trips on the water. We cover imaging techniques, like Humminbird's Side Imaging and Down Imaging, as well as traditional 2D sonar, so that all anglers, regardless of the type or brand of electronics they rely on, can learn to quickly and confidently interpret information from their fish finder."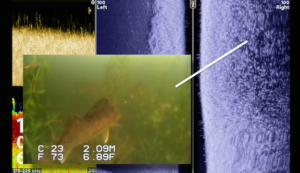 Dr. Halfen continues: "A powerful and unique aspect of the presentation is our extensive use of Aqua-Vu underwater video. Making a visual connection between the fish finder's output and an underwater object is critical to developing accurate sonar interpretation skills, and Angler's Guide to Sonar Interpretation is brimming with underwater video collected by Aqua-Vu Micro camera systems. Walleyes in thick weeds? Yep, we've got those. Smallies hovering in rockpiles? You'll see those too. Not to mention many other examples of structure and fish that will give you the confidence to rely on your fish finder, and your Aqua-Vu camera, as your primary fish-locating tools."
Angler's Guide to Sonar Interpretation is available now on DVD from The Technological Angler, and is the perfect learning tool to prepare for the upcoming fishing season, not to mention a terrific stocking-stuffer for the avid angler in your life. Check out the previews and order your copy today at http://www.technologicalangler.com/sonar-interpretation.