Aqua-Vu's amazing Multi-Vu System instantly adds underwater video to your sonar unit or LCD 
Crosslake, Minn. – High-tech fish finders show us relatively realistic underwater images. And yet, anglers still often find themselves questioning what they're seeing on screen. Is that a fish or a school of bait? Is it a bass or a bullhead? Any crappies hiding in that brushpile? Bass buried in the grass? Why won't those walleyes bite?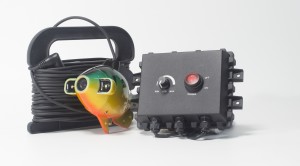 Where sonar provides clues, an underwater camera reveals real-life answers. Both tools belong in the boat and in your ice fishing shelter. And now, thanks to a new device from Aqua-Vu, anglers can see all perspectives of the underwater world on a single screen. The Multi-Vu Underwater Camera Adaptor System instantly adds underwater video functionality to your boat's sonar, or a TV inside your large ice fishing shelter.
Coupled with the Multi-Vu System, any sonar or TV equipped with a video input can be immediately transformed into a clear, colorful underwater viewer. Compatible sonar systems include products from Lowrance, Garmin and Raymarine.
"The Multi-Vu system provides an awesome interface between my Aqua-Vu and my big screen sonar," says professional angler Bruce "Doc" Samson. "Real-time underwater video gives me a superior view of my fishing area, in the sharpest, brightest, and most amazing sunlight viewable picture available. The ability to view sonar sig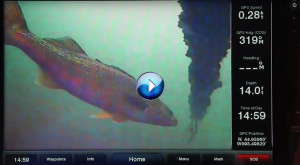 nals side-by-side with real-time underwater video is a remarkable advantage that also gives me a big boost in fishing confidence."
Available in two versions, Multi-Vu can be purchased as a complete camera system or camera adaptor only. The complete Multi-Vu Underwater Viewing Adaptor System (MSRP $299.99) features a high-res (600 lines of resolution) Aqua-Vu Color Underwater Video Camera with adjustable LED lighting, 100 feet of 200-pound-test cable with Cable Wrap and waterproof Multi-Vu Control Box. The Multi-Vu Adaptor only (MSRP $99.99) includes a 12-volt power supply cable, video-out, on/off switch and camera light dimmer; it is compatible with Aqua-Vu, Marcum and Vexilar underwater cameras (camera not included).
Installation is a straight-forward process that simply requires a compatible video-in enabled sonar unit, an RCA-to-BNC Video Adaptor (for Garmin & Raymarine units) or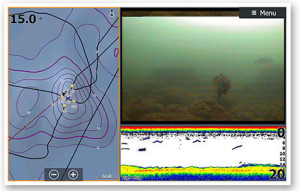 an HDS Video Adaptor Cable (for Lowrance HDS). For a helpful walk-through on installation, follow the link HERE.
"Just because you mark arches on sonar, doesn't always mean they'll bite," Samson adds. "There's always a reason, but it's not always because the bass or walleyes just 'aren't biting.' Sometimes, it's because, they're not bass or walleyes at all, but some other species. Or, they're doing something that can't be understood without an Aqua-Vu."